That will make your wedding unforgettable.
What TLIC looks for in a wedding vendor.
Knowing what wedding vendors around Maryland we recommend is a simple gander through this article. Knowing why we recommend them will take you a bit of reading through our descriptions. However, it is vital for you to have the best out of your vendor experience. We don't recommend one vendor in any category for every wedding we do. Why? Simply put, every vendor brings something unique to the table and tailoring the vendors to your desires for your big day is how you get the vendor A-Team! 
Having worked hundreds of weddings with over 1000 different wedding vendor teams, TLIC has done the heavy lifting and narrowed down your search to give you the very best, most humble, quick to communicate, vendor team in the DMV region. 
In this article, we will break down our favorite vendors by category, include links to their website, their primary email address, reviews from real couples, and their Instagram or Facebook account. 
Click the Wedding Vendors logo to go to their website
Wedding DJ's, Photo Booth, Lighting
The wedding DJ is an extension of TLIC Media, they are the most involved with the process of the wedding with the exception of the wedding planner. Wedding DJs range in their ability and deliverables. Some provide the most lit party you have ever seen, some make sure that everything is running A-okay! Picking the right DJ is essential to having the reception you always dreamed of! 
Tess K
They make the whole process easy and fun. They do a great job of MCing and don't overdo it. They read the crowd well and play fun music. We worked with Cory mostly and he was our DJ on the day of. He saved the day for me helping me set up a virtual best man speech that was being zoomed in from New York. Also spoke to Bill and he was a pleasure to talk to as well. Make it easy on yourself, choose Wizer Productions!
Kathryn P.
Bill Izer and his team are ideal for your wedding team! Bill is highly experienced, highly communicative, and highly skilled! With Bill on our side, he made planning (and replanning) our wedding throughout the pandemic smooth sailing. He was flexible and worked to be available on our ever-changing wedding date - all with a positive attitude and reassurance. Click the stars to read the rest of the review.
Megan H.
We used Wizer Productions for our wedding and Bill was amazing. Not only was he reasonably priced but he made the whole process stress free. We sent over our playlist and he added other popular wedding songs so all ages could enjoy. We had many comment on our music (teenagers to adults) and how much they enjoyed the song selection. I would recommend to anyone looking for a DJ for any event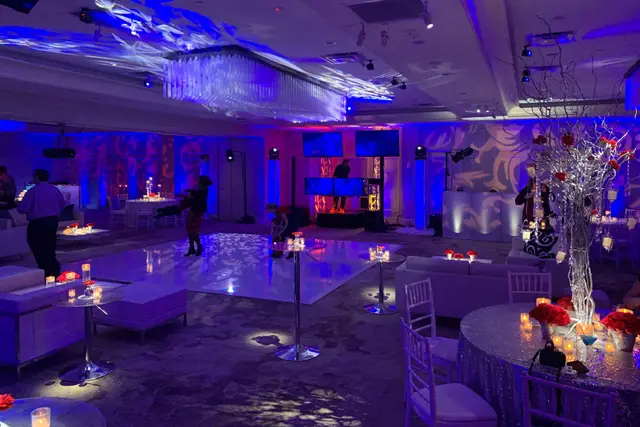 DJ, Photo Booth, Lighting
From TLIC: If you want a high class professional team that is great with communication and will be able to know what's going on at all times. 
From the first time we worked with Bill back in 2018 we knew that his team had something special. From the time they came in to the way they handled introductions and the send-off, I knew they were a professional team. The owner Bill is approachable and kind, he will be considerate of any of your needs.
From The Owner: Located in Frederick, MD, Wizer Productions, founded by Bill Izer, serves Maryland, the greater D.C, Northern Virginia, and Southern Pennsylvania areas!
Wizer entertainment provides high quality disc jockey services with the professional care that every client deserves. We work with you from the early planning stages, allowing us to get to know each other so we can truly bring your vision to life!
With professionalism and responsiveness that's certainly not all we will bring to the table on your wedding day. With state-of-the-art equipment we elevate your experience and exceed your expectations!
Scott and Katherine
"The attention to personal detail and professionalism shown by Baltimore Sound was a huge breath of fresh air during the stressful time leading up to our wedding. It was a dreamlike experience as we looked around at the level of happiness by our family and friends."
Jeff L.
Jeff and his team did an awesome job at my wedding. I am still getting compliments on how great the music was at the wedding. Jeff was able to read the crowd and pick just the write songs to keep the energy of the room up. He also provided us with the photobooth which was a huge hit, everyone loved it and had a great time. Jeff was extremely easy to work with and very flexible with last minute/day of requests and changes. I could not have asked for a better wedding DJ.
Carlos
5 stars across the board! DJ Jeff was readily available in the time leading up to our ceremony, meeting with us once early on to get an idea of what we had in mind and taking phone calls and emails as we got more detailed with our plans. He executed our ceremony to perfection and absolutely nailed our reception. We threw a lot of curveballs his way and he was ready for everything. We have not stopped getting compliments from our guests regarding DJ Jeff's performance at our reception. Just amazing, and I would recommend to anyone.
DJ, Photo Booth, Lighting
From TLIC: If you want to throw a banger that includes some of the region's most talented musical mixologists. 
The gents from Baltimore Sound have been spinning records for over a decade. Their ability to take a normal song and make it epic is bar none. If you value the skill of DJing and don't want to have the typical line dances playing, this is your company. 
From The Owner: Baltimore Sound, based in Owings Mills, Maryland, specializes in wedding DJ services in the Maryland, Washington DC and Virginia areas. From small intimate weddings to extravagant celebrations, Baltimore Sound has the personality, experience, and equipment necessary to ensure you and your guests leave with memories that last a lifetime.
Baltimore Sound's skilled and seasoned DJs will coordinate with you before your event to ensure a personalized experience on your big day. They do more than just play music – they understand how important it is to work seamlessly with you and your wedding coordinators to bring your vision to life. Baltimore Sound's DJs can also serve as a master of ceremonies (MC) so your guests can enjoy every special moment with you, from the first dance to last call. The team will bring all the necessary equipment to create a professional event, including lighting, wireless microphones, and state-of-the-art speakers and audio equipment.
Baltimore Sound can also provide top of the line photobooths to capture special moments from the unique perspective of your guests. Unlimited prints and mad props give these mementos a unique and fun twist.
Eunice
Seth and Laura are a DREAM to work with. They respond to emails incredibly fast, they are so flexible with props, design, and time. Throughout the entire wedding, Laura and Seth were smiling while assisting all the guests and encouraging them to use the photobooth. I seriously can't say enough good things about THE LAUGHING HAT. The photo qualities are amazing, the guests all raved about the photobooth, and the variety in the props were awesome. If you are looking for incredibly service, quality, and flexibility- look no further. Laura and Seth you were so amazing to work with- thank you so much!! ps. pay that little extra for the photo book!! it is so worth it.
Jenny
Seth and Laura are amazing. They were professional from start to finish. I had a wedding with over 160 guests. They made sure to pull me and my husband aside to make sure we had a moment in the photo booth. They also took care to make sure the photo strips were just right. They had really fun props too. What left a tangible Mark was the photo album that they helped our guests to assemble. It was done in a fun but also classy way! Also they have the coolest photo booth of any that I have ever seen. There was plenty of space and the camera was high quality. NONE of the pictures ended up blurry. Thank you to Seth and Laura,Click the stars to read the rest of the review.
Christine
Laughing Hat is the BEST photo booth company! The owners are extremely responsive to inquiries and make the whole process from beginning to end was a breeze! The props are fun and kept organized throughout the night! Everyone in the photo booth gets their own photo strip as well as an extra one for the us! The photo booth was the hit of the party and I would recommend them for EVERY EVENT!
From TLIC: Perfect for an outdoor or tented reception the Laughing Hat Photo Booth is a crowd favorite! We love how you can go in and close the door after you grab all your props and be as crazy and silly as you want without being judged by your fellow wedding-goers. All props that they provide are thoroughly organized and kept in great condition. 
They produce surprisingly high quality pictures for a photo booth and then post the pictures on their website, if you forget to have a printout, you can be sure to grab a copy a few weeks after the wedding. 
From The Owner: We are an owner operated photo booth company servicing the four state area including the Eastern panhandle of WV, Northern VA, Central MD, South Central PA, and the DC/Baltimore area. Coming from a background in fine art photography and have put a lot of effort into creating a booth environment that combines studio quality lighting with professional photo equipment. Having high resolution, good quality images grew out of our love for portrait photography. People are the most interesting subjects on earth, each with their own personality and humor. Photo booths are a fun, creative way to have people let down their guard people candidly. The photo booth does not replace traditional photography at your wedding or event, but supplements it in a memorable way. We often have people tell us that they hate their picture being taken but keep returning to the booth throughout the night to get more pictures!
Wedding planners are the difference between you knowing that things are going wrong and you having a totally stress-free day. We do our best at TLIC to make our DIY brides unaware of potential issues but there is only so much we can do. For everything else you will want to get a planner if not at least a day of coordinator who will work with you the month of your wedding and help make the day run smooth as silk. 
Mark E.
So impressed with Veronica and Keeley and how they handled all the big and small details. They put together a flawless wedding and were on their game the entire weekend. Cannot say enough nice things about them. What was probably the best part was how relaxed and down to earth they both were throughout the process. 10/10 recommend working with them!
Brittany R.
We had the best experience with WDBT for our wedding on 6/27/21! Brice and Veronica were always so kind, quick with communication, and made the overall planning process so easy for us. On the day of our wedding, I felt truly relaxed and everything just happened seamlessly and perfectly. We ended up also renting some decor through them and we're so happy we did! Their prices for rentals were great compared to what we were seeing online and everything looked amazing. We cannot recommend WDBT enough!!
Sophie G.
Veronica was THE BEST! I hired WDBT for day of coordination and I'm so glad I did! Veronica started helping me a few months before the wedding. She was always on top of things and is very quick to respond to any emails/calls. The best part was how she combined all of my other vendors timelines. I received multiple different schedules from my vendors and Veronica was able to take them all and create a master for me. Everything on the day of was perfect and ran so smoothly! She was also a blast to hang out with on the day of! Highly recommend!!!!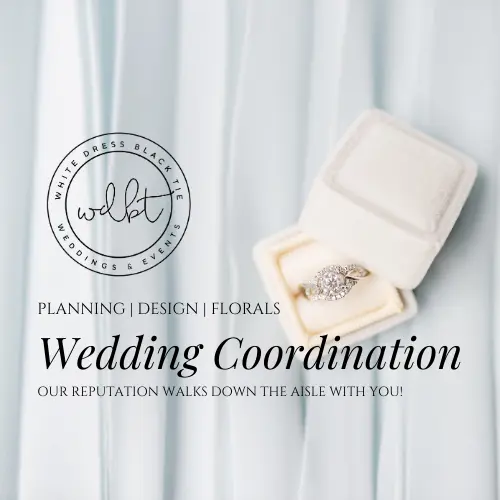 Wedding Planner, Day of Coordinator
From TLIC: If you are looking to plan the wedding of your dreams and be stress free while doing it.
Veronica from White Dress Black Tie has put together an awesome program for couples to realize that their wedding dreams can be a reality. She is organized and on top of every part of the planning process. Her team is a spitting image of her as well. There has not been one person from her company that has let the ball drop on any of the weddings we have been to with the WDBT team.
From The Owner: At White Dress Black Tie, we strive to take the stress off you and your family as you are preparing for one of the most important days of your life. Owner, Veronica Reilly, has over 14 years in the wedding industry and graduated from George Mason University with a degree in Business Management with an emphasis in Hospitality, specifically Wedding and Events Management. In 2018, she launched the business and has never looked back. Since then, White Dress Black Tie has grown into a team of 5 lead planners and has assisted, planned, and executed over 100 weddings! Backed with a full team to take care of your wedding needs, we are ready to help you plan, coordinate, and assist on your big day! We truly believe, our reputation walks down the aisle with you!
Our Services Include:
Day-of Coordination
We take a limited number of Partial Planning and Full Service clients per year to provide only the best service specialized to those exclusive list of clients.
Additional Information
5 lead planners
Licensed and insured
Client and Venue Recommendations can be provided
Monica F.
Who knew! To say that Jessica and her team were amazing, would be an understatement. Being the MOB, I never understood why a wedding planner was even necessary. Well, after this weekend, and two amazing weddings, I can say with 100% certainty Jessica and her team are not only appreciated, but necessary. With all the craziness that comes with a wedding, it is nice to know that your special day is in the hands of a team that is capable of handling any situation with decorum, grace, and confidence.
Kelsy M.
Jessica is truly exceptional--both as a wedding planner and person. AMAZING! That is just the first word that comes to mind 🙂 Jessica was my best friends wedding planner and seeing how happy and how at peace she made my bestie feel on her special day made me so happy. I loved getting to meet her after hearing rave reviews about her, and she did not disappoint! She would even make a point to come find me and ask if i had any thoughts on certain things knowing that I knew the bride better than anyone. Which I thought was so sweet and thoughtful! She truly went ABOVE and beyond to make my besties day perfect!!!
Ryan R.
As the groom, I didn't know how much went in to a wedding. My bride hired Jess to plan and I couldn't be happier with the results. Not only did the wedding go off without a hitch, I heard many people talking about how it was one of, if not the, greatest wedding they'd been to. Bridesmaids were all extremely impressed with how easy and flawless the wedding was. I would highly recommend using Jessica Ashley Events!
Wedding Planner, Day of Coordinator, Designer
From TLIC: If you want a superstar planning team that will leave you feeling so in the moment you won't even have to think. 
Jessica and her team are serious superstars, the first wedding we did together (Hailey & Rishil) was a two full-day wedding weekend. One day was the Jewish-American, the next Hindu-Indian. She melded the two cultures seamlessly and had everything planned to a T. The thing we appreciate most about her and her team was the amount of pride they took in their work. It showed us immediately that they care for what they do and the couples they serve. 
From The Owner: Jessica Ashley Events is a full-service wedding planning company in Washington D.C., Virginia, and Maryland that ensures your day is magical and exceeds your wildest dreams. We are a boutique-style firm, specializing in detailed organization for the day of and we have an eye for design that will take your input and create your dream design plan tailored to your unique vision. If you choose us, your special day will be stress-free (just read our reviews!). We are eager to work with all styles and tastes, providing personalized service to help you feel at ease. Additionally, we work with only a handful of couples of year to provide a service that feels like you are our only couple.
Jessica Ashley Events provides a range of services. Couples can choose to have the company fully or partially plan the wedding. Services offered include: design, presentation, budget analysis, day/month-of coordination, partial planning, event design, To-do list, timelines, and floor plans
Tess K
They make the whole process easy and fun. They do a great job of MCing and don't overdo it. They read the crowd well and play fun music. We worked with Cory mostly and he was our DJ on the day of. He saved the day for me helping me set up a virtual best man speech that was being zoomed in from New York. Also spoke to Bill and he was a pleasure to talk to as well. Make it easy on yourself, choose Wizer Productions!
Kathryn P.
Bill Izer and his team are ideal for your wedding team! Bill is highly experienced, highly communicative, and highly skilled! With Bill on our side, he made planning (and replanning) our wedding throughout the pandemic smooth sailing. He was flexible and worked to be available on our ever-changing wedding date - all with a positive attitude and reassurance. Click the stars to read the rest of the review.
Megan H.
We used Wizer Productions for our wedding and Bill was amazing. Not only was he reasonably priced but he made the whole process stress free. We sent over our playlist and he added other popular wedding songs so all ages could enjoy. We had many comment on our music (teenagers to adults) and how much they enjoyed the song selection. I would recommend to anyone looking for a DJ for any event
Wedding Planner, Day of Coordinator, Designer
From TLIC:
From The Owner: Partridge Avenue Events offers boutique event planning for all of life's greatest celebrations. Here at Partridge Avenue, our goal is to design events that meticulously match your style. We pride ourselves on being unobtrusively present, executing flawless designs, and leaving our clients implausibly happy with the results. Whether you are looking for event coordination or full planning, we are here to make your dreams come true. We can't wait to work with you!
Wedding Florists and Designers
A great florist will breathe life into your wedding with stunning designs. Floral companies often offer ceremony and reception decor (all of our recommended vendors do). From flower archways to beautiful bouquets, choosing the right florist for you makes the difference between nice wedding and wow what a wedding. 
Mairs
Blossom and Basket Boutique are exceptional! Top notch service! I went in for my flower consultation and loved it. Rene is so experienced and made my vision come to life. They even had a welcome sign with my name on it. The flowers came out so beautiful on our wedding day! Everyone kept complimenting them because they were just the most gorgeous part of our wedding! They were very flexible with us during these tough times. We had to reschedule our wedding and they made the process so smooth! I highly recommend them. I loved the personal touches that makes them stand out. They mailed us a card with a picture of our bouquet which I thought was so special. 🙂
Carmen K.
We fell in love with Rene and her team the moment we met them! They were so friendly and enthusiastic about their work, I knew I had to have them for my wedding. They were such a pleasure to work with and we were obsessed with how our wedding flowers came out! Everything from our centerpieces, bouquets, and welcome sign was exactly how I had imagined it! They delivered and picked up everything, so I had nothing to worry about it! Blossom and Basket is worth everything cent because they helped make our day perfect and magical and I highly recommend them!
Mckendry F.
I'm so happy we found Rene at Blossom and Basket Boutique for our wedding! From the day I originally sent out emails to touch base the entire team was the most attentive, thorough and genuinely helpful vendor I came across. From the very beginning, Rene was dedicated to creating a beautiful vision and explained her expertise in a way I could understand with lots of examples and possibilities. All the florals for my wedding day turned out jaw-dropping gorgeous! I've already sent my bouquet out to be preserved so I can admire its beauty for the rest of my life. I can not recommend this team more and I'm so grateful for everything they did for us!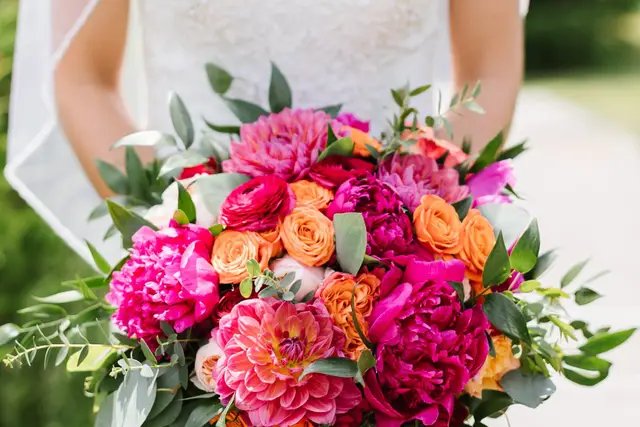 From TLIC: If you have a spring wedding and want a fresh, full, and classic look to your floral design. 
Their team is quick and on time. We always see them come early to make sure the flowers are there for detail pictures/video. The arrangements never disappoint and are always filled with vibrant and stunning florals. 
From The Owner: Blossom and Basket Boutique is a floral studio, specializing in wedding flowers, located in Mount Airy, Maryland. Since 2001, the floral experts at Blossom and Basket Boutique have prioritized customer service and providing fabulous floral arrangements to weddings throughout Maryland. This floral studio is owned and operated by mother-daughter team Rene Bonde Shiffer and Ellie Bonde, who infuse their passion and dedication into each floral creation. Blossom and Basket Boutique can supply the perfect blooms to provide the finishing touch to your special day. Their team serves weddings in Frederick, Maryland, Baltimore-Washington Metro area and South Central Pennsylvania.
Blossom and Basket Boutique provides custom floral arrangements and designs for weddings and special events. They deliver to the local area and ship worldwide. The floral specialists at Blossom and Basket Boutique are skilled in a variety of floral styles, and can create arrangements to match the style of your wedding. 
From TLIC: If you are having a fall wedding, are any bit bo-ho, love attention to detail, and like working with a fantastic person. 
Mya is a dear friend of owner and lead videographer Chris. Even though she does not have an official business she has been doing floral design for the past decade and boasts some of the most creative and stunning fall floral arrangements we have seen to date. 
Because she is not with a company, none of your money is going to operating expenses which reduces the cost quite a bit. 
Caitlin H.
Where do I even start! Rosy Posy's floral designs for my wedding were INCREDIBLE!!!! Lisa is so helpful and really knows how to pull a space together. She sent me a proposal early on in the planning process and I was excited to see how everything would turn out. I was FLOORED, everything was incredible the details were insane. The ceremony space was gorgeous and really brought our theme to light. I lost it when I saw the reception space, she truly brought fall and made my dreams come true. Lisa and her team are amazing!
Lauren C.
The Rosy Posy was my favorite vendor for my entire wedding. From the minute I received my proposal from Lisa I knew that she got me and would execute my vision to a T! We met with Lisa 6 months out at her shop to show her all the colors and pick out exactly what we wanted which was so nice to see everything before the wedding. Lisa and her team was amazing. I could not have asked for a better florist. My flowers were AMAZING! The best part too was that she not only handled flowers but had table numbers, hedge walls, lanterns, etc to help put it all together. I cannot thank her and her team enough for everything she did for me!!Click the stars to read the rest of the review.
Madi I.
I had a very specific vision in my head of how I wanted the flowers for my wedding. Lisa not only gave me that but far exceeded that vision. I literally couldn't even believe my bouquet was mine it was that beautiful. She style each and every detail perfectly. She offered input and advice when needed but also gave me as the client a ton of room to run. I can't recommend Lisa and her company enough! I am still not over looking at pictures of all of the arrangements. I'd get married again just to work with them on another project:)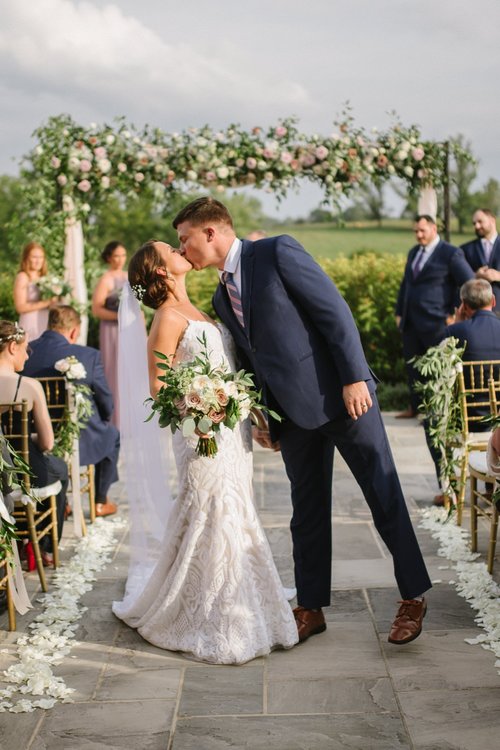 From TLIC: If you want to go all out with your floral design. 
Rosy Posy seems to go all out at every wedding that we go to with them. From completely covered Arbors to decked out reception tents, they got your florals and designs taken care of! I have seen a good balance between spring and fall arrangements but like blossom & basket they lean towards a classic feel.
From The Owner: Based in Manassas, Virginia, The Rosy Posy Floral Design & Event Studio is a full-service couture floral atelier that will bring classic, vintage elegance to your wedding day. Trained in the UK, owner Lisa brings a distinctly English flare to her arrangements with an emphasis on European wedding design. With over 30 years of floral artistry experience, Lisa's beautiful arrangements evoke powerful emotions that will make a lasting impression.
Master designer Lisa loves the wedding industry and always strives to capture the beauty of marriage in her floral designs. Inspired by your unique connection, Lisa will intertwine your wedding theme in the flowers she uses to create stunning arrangements. Each one-of-a-kind creation is designed to reflect your style and personality with a fresh blend of enticing and exquisite flowers. Serving Virginia, Washington DC, and Maryland, The Rosy Posy Floral Design & Event Studio provides everything from custom personal items to stunning reception installations. Your wedding is one of the most important events of your life, with Lisa's expertise you can be sure every inch of your special day is beautifully complemented. From ceremony flowers to timeless bouquets, each package includes:
Consultations
Event design
Samples
Venue visit
Delivery
Set up and clean up
Girl get your beauty on! Hair and makeup can be really great or really bad. When your artist gives you the perfect face of makeup and a stunning up-do, it gives you the confidence to be in front of all your family and friends. The following artists are known for giving you a fun makeover that is sure to make your future hubby say oolala. 
Shelby T.
We had the pleasure of Lauren Gentry & Ashley Chin to help us on the big day! We faced some time constraints (on our end) and they worked around our schedule to accommodate our needs. Ashley is a master at makeup. She listened to our preferences while making suggestions. Lauren Gentry is a dream to work with. She is relaxed yet confident & efficient. We never felt any stress about being ready on time or liking our look. She was able to recreate the styles we wanted. We had a *windy* day, so she made adjustments to make sure our styles would hold. And they DID!! We loved our looks!
Cathleen C.
Ashley made my bridal party and me absolutely stunning! I did a trial along with my mom and future mother-in-law beforehand which really helped. We made some changes the day-of which Ashley made perfectly. Also, I got eyelash extensions which she knew exactly how to work with. I was a bridesmaid in a wedding where I first loved the make up Ashleigh did, now she's done my wedding and now she's doing one my bridesmaid's wedding. She's quick to respond, professional and super speedy at actually applying the makeup which is useful the day-of the wedding!
Laila B.
I am lucky enough to have worked with Jojo on three different occasions. Each time she brought to life exactly what I had envisioned and my wedding day was no different. Both Jojo and Kat were able to work with every bridesmaid, mother, and aunt to bring to life what they were picturing for the day. Every hairstyle was as beautiful as the one before it. Everyone's makeup was truly flawless. It was easily 90 degrees for better part of the day and everyone was just as fresh and beautiful at 11pm. Both Jojo and Kat were amazing additions to our beautiful day. I cannot wait for a reason to go visit Jojo again! Thank you for making me feel like a true beauty on my wedding day, I could not have done it without you!
Wedding Planner, Day of Coordinator, Designer
From TLIC: If you want to look and feel your absolute best on your wedding day! 
Ashley and her team at Glam Bridal Beauty are awesome. They were the first vendor we ever recommended to couples because they were the first vendor we ever saw that went above and beyond to make the getting ready experience for the bride fun, exciting, and quick. 
In the dozen weddings we have worked together, I have never seen anyone on her team without a smile. 
From The Owner: Ashley Chin is a licensed Cosmetologist, with vast experience in the Beauty Industry. She graduated from The Temple, A Paul Mitchell School, and has continued to receive extensive training. Ashley is passionate about the beauty industry, and is always finding innovative ways to grow as a stylist, and to improve and perfect her technique both in the salon and in her Bridal H&MU expertise. Ashley has attended Hair and Makeup shows in NYC, Vegas, and Baltimore. She is also the owner/stylist of her salon studio, Glam by Ashley Chin located in Sola Salon Suites in Frederick, MD. There she performs hair services: cut, color, etc. If you are a bride that needs pre-wedding hair services such as cut and color, please text 301-471-0048 for an appt!
Elena
"Claudine did an incredible job on my wedding hair and makeup! I received tons of compliments and felt so confident. She also did the hair for my bridesmaids and mom. A makeup artist that she works with, Julie Richards, did everyone else's makeup. Every single one of us were so impressed by their work. I could tell even at my trial that Claudine has fantastic attention to detail and really wants to make sure you are satisfied with your look. Would recommend Claudine to anyone!"Lauren Gentry is a dream to work with. She is relaxed yet confident & efficient. We never felt any stress about being ready on time or liking our look. She was able to recreate the styles we wanted. We had a *windy* day, so she made adjustments to make sure our styles would hold. And they DID!! We loved our looks!
Jessie
"Claudine was absolutely wonderful, I would HIGHLY recommend her! I did a couple of trials with other stylists and she was by FAR the best. My hair stayed perfect the entire day/night. She was extremely detailed/professional and an absolute pleasure to work with. She came to our hotel suite very early on the morning of the wedding and it made our lives much easier. I really appreciated the fact that she did everything she could on the wedding day to make sure we stuck to our timeline."
Emilie M.
"Claudine, I wanted to thank you for creating such an amazing look for me on my wedding day! I think one of the most important things is to look good and feel even better on your wedding day and you made that possible for me! I loved my hair and makeup and my bridesmaids looked so stunning. Everyone keeps talking about how awesome their hair and makeup was, Julie was a great addition to the day! I had so much fun and I'm so sad my time is over!"
Wedding Planner, Day of Coordinator, Designer
From TLIC: If you want any type of hair design no matter what culture. 
I love Claudine's work, I had to shout out Hailey & Rishils wedding again because she did such an amazing job with Hailey and her bridesmaid's hair. You can get a good look at Claudine's variety by watching their two-day two-culture wedding. 
From The Owner: I'm Claudine Fay, a licensed cosmetologist. I call my hair styles soft, romantic and perfectly-imperfect. I love natural-looking makeup; the kind that showcases YOU and the beauty within. In addition to focusing on bridal clients, you can find me behind the scenes doing hair and makeup for television, editorial shoots and special events. I fell in love with the art of hairstyling at the age of 11, which is when I gave my first haircut.
Growing up in a family of hairdressers, I used to spend Saturdays at my parents' salon in Washington, D.C. learning from the best. After graduating from Virginia Tech with a degree in Fashion Design, Merchandising Management and Art, I worked for Nordstrom for 8 years. This is where I learned the value of top notch customer service. After launching my business in 2012, I was quickly acquainted with the wedding industry's leading vendors, and I am grateful to work alongside them.
Wedding Caterers & Bartenders
Your catering team is the backbone of your wedding. Without them, things won't run quite right. Not only do caterers provide food for your guests, they also maintain a safe environment for everyone. From cleaning broken glass to removing obstructions from walkways. A good catering team has your cocktail and reception behind the scenes covered.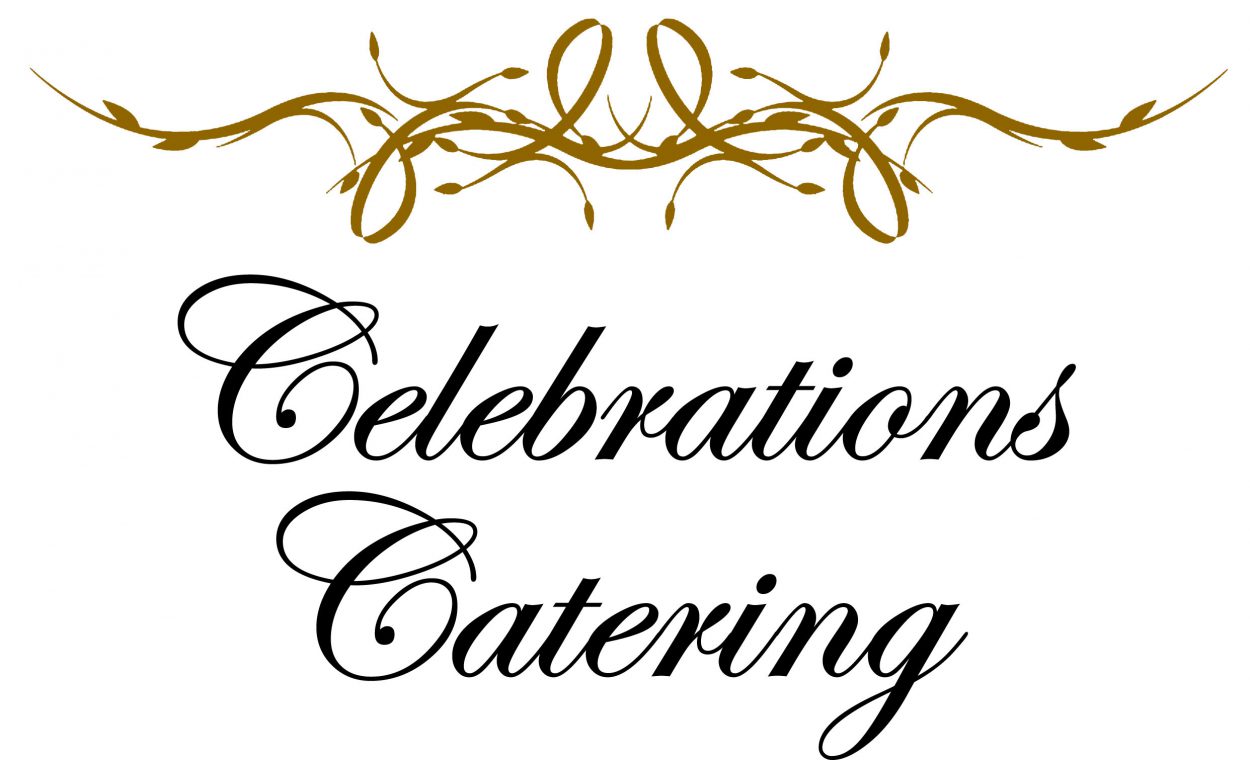 Jessie H.
Our wedding was 9/17/21 and everything was perfect and Celebrations played a major role in that! We worked directly with Tammy and she was absolutely amazing throughout our entire 2+ year process (due to COVID postponement). She helped us with so many details that we had never thought of and offered advice when needed. The rest of the staff was cooperative, fun, and professional. My husband and I didn't have a single worry throughout the entire night. We would highly recommend Celebrations!
Sara D.
Celebrations knows how to make a wonderful day even better than you could imagine! Amber was a fantastic coordinator and working with her was like working with a friend. She cared about our event as much as we did, and it showed when the day came. The staff made sure that the bride and groom were taken care of first which we really appreciate as well! All the staff helping with service and the bar were so friendly and helpful, everything you could ask for and more to help make our big day perfect!
Alyssa
Tammy and her team were SO AWESOME!! She helped me plan the most fun taco bar menu for our wedding and helped plan al the details so I didn't have to think about it. Even throughout our wedding night she would check up on us and make sure everything was good. Even after postponing our wedding and having to adjust the plans a few times, she made it feel like a breeze!! Would 100000% recommend to ANY and EVERYONE!!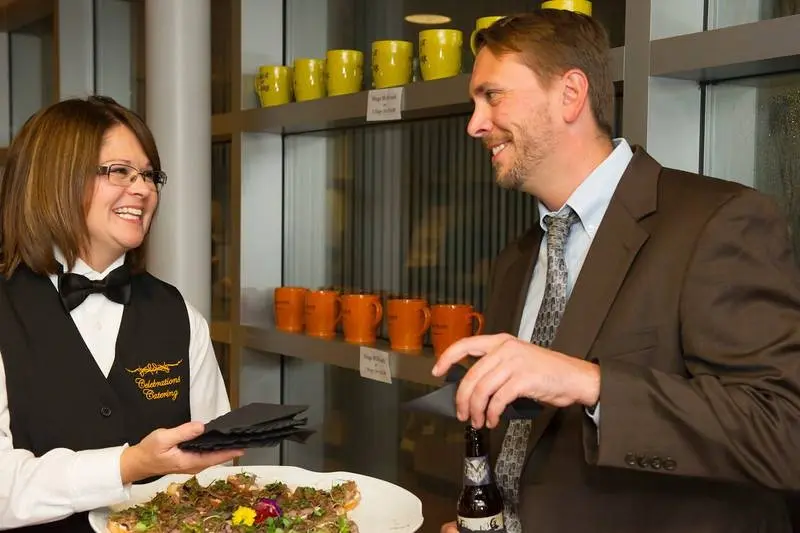 Full Service Catering, Bartending, Waitstaff
From TLIC: If you want classic American fare and a amazing team behind the scenes.
Celebrations are one of TLIC's favorites. They are consistent, their team is present and accommodating, and they have some great food options! 
From The Owner: When you're planning a once in a lifetime event with your closest friends and family in attendance high quality food is important, as well as outstanding service levels. Celebrations has a large menu to offer, every item is prepared from fresh, never frozen foods. Our culinary team takes great pride in food quality and presentation. If you have an menu idea that isn't on our menu, that's great ! , our Chefs love preparing custom menu items. To assure the best food quality, all of our foods are oven fresh finished on site utilizing our mobile cooking equipment.
Celebrations service team is second to none. In addition to our high quality foods we offer set up of events, clean up, bartending services, equipment, and a large collection of table linen colors and textures to choose from. From beginning to end our team is there to assist in making your special day a lifetime memory.
We're confident that you will enjoy our food offerings and taste the difference, for this reason we offer complimentary tastings by appointment and invite you to call today or contact us to schedule a visit, bring your appetite!
Dona O.
Simply Fresh Evens provided the wedding planner/coordinator, the catering, the florals and the wedding cake for my daughter's wedding weekend at Tusculum Farm. Jocelyn Barker did an excellent job helping us plan the wedding, making sure that no details were forgotten. And having her on-site for the wedding to coordinate the details of the ceremony, the florals and the catering was so helpful! Chef Katie's food was delicious, with special kudos for the incredible appetizers. The wedding cake was flavorful and moist - a big improvement over many wedding cakes I've tasted. And the flowers were BEAUTIFUL! Planning a wedding involves so many moving parts; it was really helpful to have so many of them together in one excellent company. Thanks for making our celebration so memorable!
Josh M.
We really liked our experience with Simply Fresh. Of all the caterers we reached out to at the beginning of the process, they were the most responsive and the most willing to tailor their proposal to match what we wanted. They also offered us a wedding coordinator as a part of the catering package, which we opted for and would highly recommend. Our coordinator was so helpful and made many great suggestions for us throughout the planning process. The food was delicious and the menu came together really nicely. It felt like their big focus was making our wedding day as easy for us as possible, and that attention and dedication was evident. Highly recommend.
Jana
As soon my now-husband and I tasted their entrée we looked at each other and knew immediately that they had to cater our wedding. Their food was/is amazing! You could cut their steak with a butter knife, it was cooked to perfection. Just like their food, everything else came out perfectly, from the tables and chairs to the place settings. We also decided to use the services of one of their wedding coordinators, Nicole. Without her I don't know how I would have managed everything. The day-of went seamlessly and I credit all of that to her. The rest of their staff was wonderful as well, very professional and helpful. I have no regrets about Simply Fresh. 10/10 would hire again.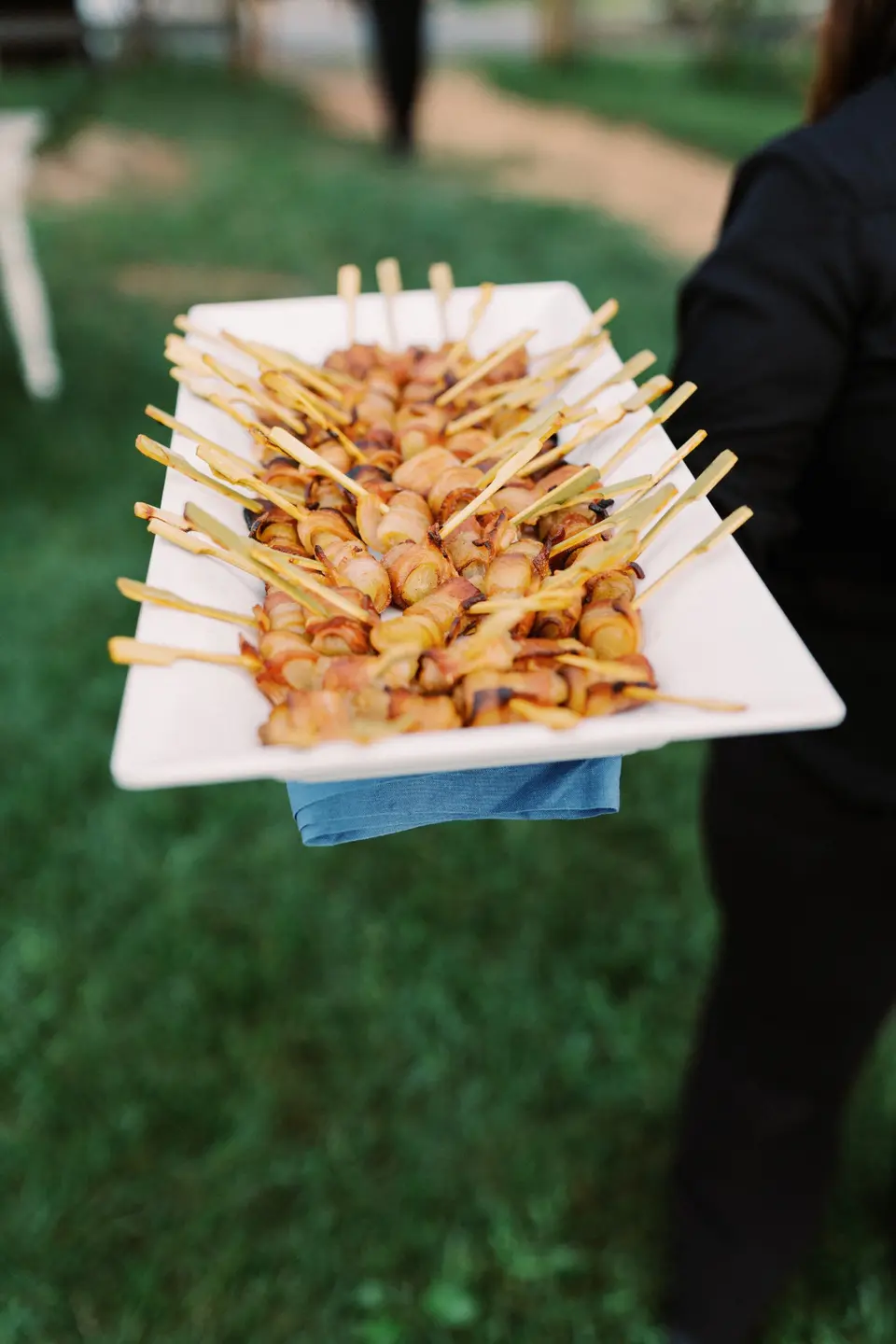 Full Service Planning, Catering, Bartending, Waitstaff
From TLIC: If you want an all in one solution to the behind the scenes of your wedding.
Simply Fresh Events is simply put the best full service catering team you can get in the area. They have great designers for the cocktail hour and reception and their food and waitstaff is top notch. 
From The Owner: Simply Fresh Events is a full-service catering company based in Gaithersburg, Maryland. The company was established by two couples, Matt and Liz Phelan and Geoff and Jocelyn Barker, with over 50 years of professional catering experience between them. The business's mission is to provide exceptional service combined with creative and fresh cuisine to every couple. This business is proud to serve those celebrating weddings in central Maryland, northern Virginia, and the District of Columbia.
Cuisine
Simply Fresh Events uses in-season ingredients to create delicious dishes and creative cuisine. While primarily serving American, Southwestern, and local recipes, this caterer can also create an array of international dishes including French, Mediterranean, Japanese, Korean, Caribbean, and many others. Your dining experience can be served in a range of styles such as buffet, plated, stations, tapas, family-style, and more. Simply Fresh Events is happy to accommodate a number of dietary restrictions, including:
Gluten-free
Organic
Vegan
Nut-free
Halal
Lactose-free
Kosher
Vegetarian
Services Offered
Simply Fresh Events is a full-service event planning and custom catering company. The business partners with multiple venues and event professionals to create unique event experiences for couples. Their culinary team cooks on-site whenever possible to bring their clients the freshest and best-tasting menus. Their detail-oriented team is also happy to provide seamless event planning, floral, decor, lighting, entertainment, and transportation services, among others.
Amy_Robert Kim
We used P.I.G.S catering for our wedding and couldn't have been happier with our decision. Lisa and team were awesome to work with throughout the entire process. They were flexible, accommodating, and responsive as we had to make multiple changes due to COVID. Having a full-service catering team alleviated a lot of our stress since we were able to go through 1 team. The food was delicious and the entire staff was professional, attentive and friendly to make our special day unforgettable. We would recommend and use again in the future. Thank you!
Brandon Fletcher
I can't begin to express how awesome this catering company is. They truly went above and beyond for my wife and I on our wedding date. All of the staff were amazing , very friendly and polite. We received multiple compliments on how good the food was from our wedding guests, and they weren't wrong, its the best wedding food I've ever had. Read more by clicking the stars.
Alexis Rex
PIGS was amazing for my October 2019 wedding! Lisa was so easy to work with and understood our "BBQ-Chic" wedding! Her team was absolutely amazing on the day of, especially Jimmy! He was so attentive to my husband and I on the day of with making sure we had drinks in our hands at all times and checking in to see if we needed water, snacks or cake! Just the best!! Thank you Lisa and the O'Connell family for making our day perfect ❤️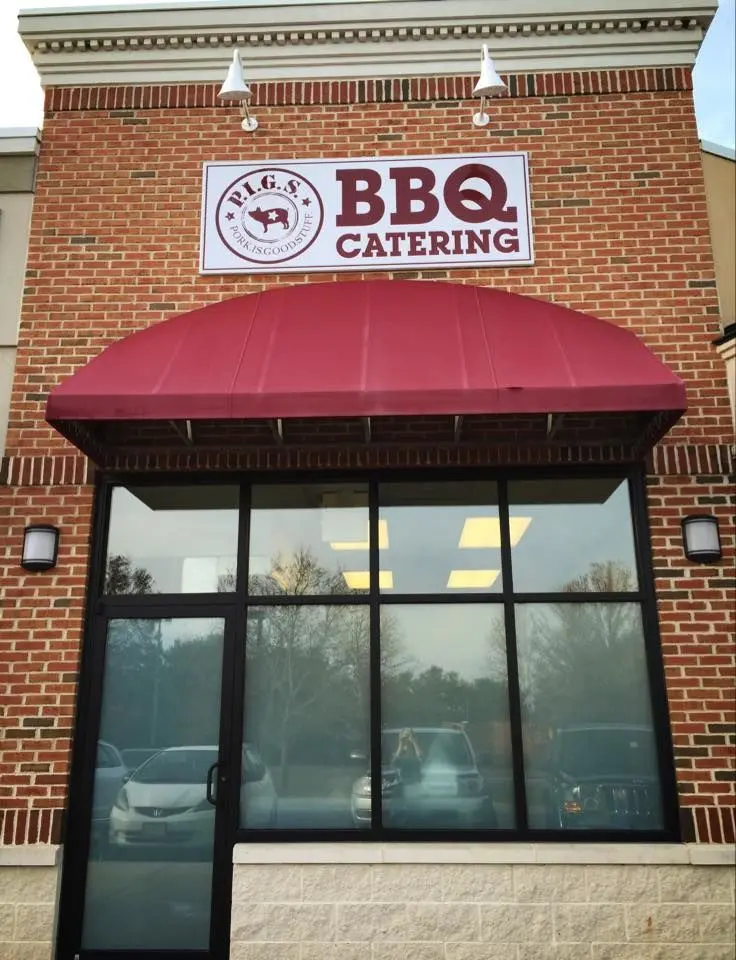 Full Service Catering, Bartending, Waitstaff
From TLIC: If you want that yummy American style BBQ.
Pork is Good Stuff, aka P.I.G.S. is all about the BBQ. Their signature sauces and slow cooked meats will leave your guests wanting more. The staff is quick and efficient and they work double-time to make sure everything behind the scenes is running smooth. 
From The Owner: P.I.G.S BBQ Catering is a wedding caterer located in Frederick, Maryland. They offer couples reasonably priced options with that smoked flavor you'd expect from a great BBQ joint. Smoked brisket to pork sausage, P.I.G.S BBQ Catering will deliver out of this world BBQ for you and your guests. Let P.I.G.S BBQ Catering bring casual dining with big flavor to your wedding.
Sit back and relax while they deliver the goods, set up and clean up your event. In addition to a variety of services offered, P.I.G.S BBQ Catering can also offer bartender(s), barware, chairs and tables. There isn't much this BBQ company can't do. Services offered include:
Barware
China
Chocolate fountain
Flatware
Glassware
Linens